So, this past weekend + Monday and today, has been wonderful! I'm still on break from school til next Monday so obviously that has contributed to me being very happy.
On Friday, I got to go shopping (which I probably shouldn't have but...) with my good friend Kyle that I worked at Cedar Point with and my boyfriend Jake. I ended up getting a new bra from the Victoria Secret Semi Annual Sale ( Best sale ever, right?) and a new Yankee Candle from their sale as well. I was also kind of recruited to pursue a job at Yankee Candle as well, so I'm really hoping that goes through because I shop there like no other and I could really use that associate discount!!
Theres the yummy candle I got!!! After we went shopping, we went to a local coffee shop and drank some delicious herbal tea called Blue Eyes! I also bought some loose leaf tea which I just tried last night and it was very good!
Saturday was the date for my Cedar Point 2012 Crew reunion! So I got to see one of my best friends Chris and of course another bestie, Rachael! The three of us, plus the boyfriend all went up to Sandusky to meet up with our team leader from that summer to surprise him and then we went out to dinner! It was really great getting to hang out with these people since everyone lives so far away now. After dinner, Chris, Jake and I headed back to Akron and met up with my roommate to indulge in another habit I have besides Candles and Tea, Hookah! I haven't been forever so it was so nice to be able to go out and relax and smoke some hookah. Of course, Jake, Chris and I stayed up talking after the hookah bar which was entertaining as usual.
On Sunday, Jake and I went ice skating at an outdoor rink in my city. We had a lot of fun even though it started raining after we got a snack. However, we still went back out on the ice to skate around for a bit til both of us just could not handle the freezing temperatures anymore.
Me trying to look fancy while ice skating.
Lock 3 fire pit thing that I thought looked pretty cool.
Yesterday, AKA Monday was pretty cool as well. I did my usual things like cuddle with my kittens and binge watch Netflix. Nothing new, however my best friend from childhood was finally back from studying abroad in Paris, France! However, I had to work from 3pm-10pmish. What a bummer right? So I ventured out in the negative temperatures to a car that had frozen doors that I obviously couldn't open my self and had to get Jake to do it for me. Then, I headed to a quick Target run before work like usual and bought some Lipsmackers ( I know, I'm really doing this adult thing quite well, right?) then headed over to work. Like usual whenever I'm there, it wasn't very busy. So I sat there, and worked til we got amazing news that because of the weather and lack of guests... WE WERE CLOSING EARLY!!!! That meant I got to see Cerise at a reasonable hour! We reunited like we had never been separated and spent the night hanging out with my roommate, throwing boiling water in the cold air to see it freeze, and of course made a lot food to eat. The usual!
The next morning, Jake attempted to teach us how to play his Playstation 4 games. We kind of failed miserably at every single one, but thats pretty much what happens every time we try to play a game that isn't Harry Potter and the Goblet of Fire for Playstation 2.... lol.
My other exciting news of the day is that my Birchbox shipped today! I kind of neglected my Birchbox (and Ipsybag post, whoops!) last month because I kind of sorta hated my Birchbox with a passion! It was just so boring! It felt like I got the least wanted items all in one box and I found nothing that I would have wanted to buy again. My Ipsy bag however was totally amazing and I loved it. I'll still probably review that one because it was so great and now I kind of need everyone to get one too! Speaking of monthly boxes...
Today, Rachael made a blog post about a Valentines Day Box Swap, which I absolutely love putting together care boxes and gifts and of course, receiving them! Naturally, I signed up even though I'm pretty sure Rach is the only person who reads my blog... Hopefully, I'll make some new friends by doing this!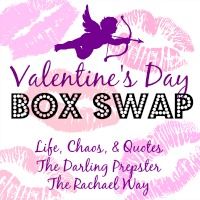 "
Come join, cuz I think it'll be a lot of fun! :)